Meet The Team
We are passionate about helping young Australians be future ready!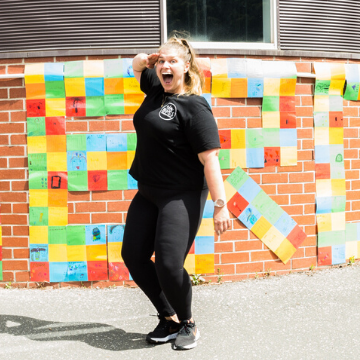 BETSY TOLMER
CO-Founder & Director
betsy@drivenoutcomes.com.au
Betsy's background
I have had an eclectic career, from working in Event Production, Human Resources, Marketing and Communications, Education and Career Consulting and I have even worked for Santa himself with project managing installation of Christmas Trees all over the city. In all my roles people have always been at the core, and my passion and purpose was finally realised when I started working on MiniBOSS and Tripod to connect young people with great learning experiences.
Fun fact about Betsy
I have two beautiful British Bulldogs that I'm obsessed with named Freddie Mercury and Elton John.
Betsy's favourite incursion
I simply can't pick one, they are all my favourite, every time I run The Lab I say that The Lab is my fave, but then I will run a Create IT and I will say no, no, Create IT is my fave! I think they are all so unique and different every time we run them because the input of the students and that is my favourite thing that so much of the day is about who is in the room!
Why Betsy likes working for MiniBOSS/Tripod
For sooooooo many reasons! The team that I am a part of, the endless hours of being creative, no day is the same, working with so many schools, getting to be a part of the education industry at a truly innovative and exciting time, working with young people, making an impact and getting to see it LIVE!!!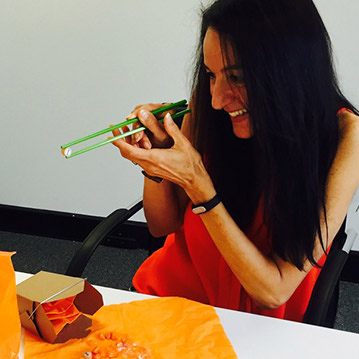 MARITA D'AMICO
CO-Founder & Director
marita@drivenoutcomes.com.au
Marita's background
With a love for business and travel, I have started and run businesses and ventures in Australia and overseas since university where I specialised in Marketing and Economics. Being curious and enjoying a challenge, I spent seven years based in Shanghai and Beijing running several joint ventures, projects and high profile events with Chinese, UK and European organisations. I have been a member of the Australia China Business Council, AustCham Beijing and also participated in the SME Working Group in Education in Beijing. Returning to Australia four years ago, I became passionate about helping young Australians gain the skills they need to succeed in whatever they do at home and as global citizens.
Fun fact about Marita
Still uses chopsticks to eat most meals!
Involved in publishing two books (in English & Mandarin) and a TV documentary.
Marita's favourite incursion
I have so many favourites! I love working with the team to bring all our programs to life and to continue to shape and change them to connect them with key learning outcomes for students.
Why Marita likes working for MiniBOSS/Tripod
Getting to be ultimately creative and utilise all the skills I have built throughout my diverse career to develop and deliver meaningful programs with a team of talented people.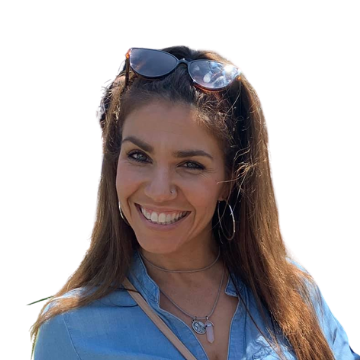 TEZ (Teresa) 
Head of Relationships
teresa@drivenoutcomes.com.au
Tez's background
I have been working with students and schools for over 10 years now! From teaching dance incursions, then moving onto facilitating financial literacy programs I really grew a love for teaching students and seeing them benefit from these wonderful positive skills that I was able to teach them. As well as being a head facilitator I have worked in sales and marketing and relationship building which has lead to me working with MiniBOSS/TRIPOD. Working with schools is a huge passion of mine as I love what positive things the students get out of the programs we deliver!
Fun fact about Tez
In February 2020 I went to Brazil and danced with one of the Samba Schools at the Rio De Janeiro Carnival!
Tez's favourite incursion
Crack IT: The Gameshow! I love this incursion because I just love how excited the students get with the problem solving involved in the activities and seeing how many points they can win!
Why Tez likes working for MiniBOSS/Tripod
Since my first day I have been blown away at how much passion everyone that works for us has for our programs and what we deliver. The way the students respond to the programs they participate in and how wonderful it is to see the creativity that comes out of the students. It's just great to see the positive outcomes that our incursions have on these awesome young people.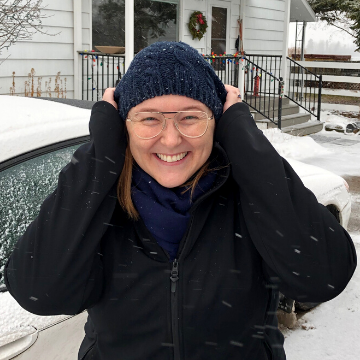 staffing@drivenoutcomes.com.au
Lauren's background
My Bachelor's Degree is in acting and directing, and I have a Master's Degree in arts and business. I've loved combining the knowledge and skills from these industries to work as an actor, director, facilitator, writer and people leader in Melbourne and across Australia. Interacting with audiences and helping people to grow through connected experiences is my favourite thing. 
Fun fact about Lauren
I used to play the role of a police sergeant at a 175 year old prison, which is now a spooky tourist attraction.
Lauren's favourite incursion
In our Primary school space, I'm loving In my Community Junior right now. It's interactive and highly relevant, and the journey that our MiniBOSSes go on is truly guided by their own ideas, creativity and teamwork.
Why Lauren likes working for MiniBOSS/Tripod
Hanging out with hilarious, smart and courageous students every day is a delight and a privilege! The students we visit, combined with our dynamic programs and wonderful team, make my MiniBOSS and Tripod experiences memorable and meaningful.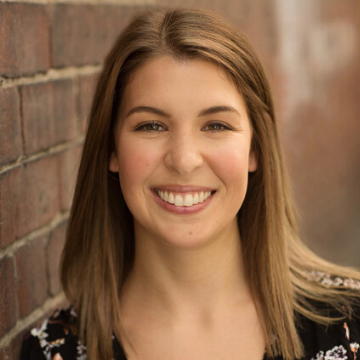 LISA 
Senior Facilitator & Program and Content Developer
staffing@drivenoutcomes.com.au
Lisa's background
In another life I was going to be a Psychologist, but I ended up following my heart and went to drama school instead (which is what I really wanted!) Whilst studying acting, I also discovered another passion…teaching! I went on to complete a 'Masters of Teaching' through the University of Melbourne. I love working with young people (and being kept on my toes!) and so I have worked as a professional facilitator, mostly in schools, for the last five years. Just incase I didn't have enough facets to my career, I also work as a freelance voice and dialect coach and am a qualified marriage celebrant. Let's just say, I like to keep things interesting!
Fun fact about Lisa
I once played a season of badminton… I was terrible but my team did make it to the grand final! I was definitely the weakest link!
Lisa's favourite incursion
So many favourites… however, I think my favourite is 'The Pitch'. It is such valuable content for the Year 9 and 10 age group, and I wish I had have had the program when I was in high school! I love seeing the students grow in confidence over the course of the day.
Why Lisa likes working for MiniBOSS/Tripod
I love working for MiniBoss/ Tripod as not only do the programs teach extremely valuable skills for young people, they are also super fun and engaging! Each program challenges yet supports students to develop, and gain confidence and resilience. I also love working with such a supportive team!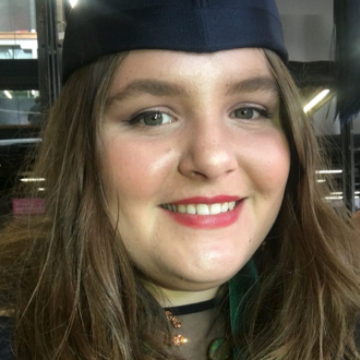 NATALIE 
Junior Facilitator 
staffing@drivenoutcomes.com.au
Natalie's background
I'm a qualified teacher with over 7 years in the sector. I'm currently undertaking my Master's of Education by Research. I'm passionate about revolutionising the educative experience and listening to student voice.
Fun fact about Natalie
Well I do a bit of COMEDY! Can you believe it!?! I've been through several terms of improvisation classes, and sketch comedy training at the Improv Conspiracy in Melbourne. I can't believe it!!
Natalie's favourite incursion
Although 'The Lab' is up there, I cherish so many program moments. When I walk around a space and see students actively engaged in hands on, fun and exciting experiences, I know I am where I need to be. Learning is so powerful in these moments.
Why Natalie likes working for MiniBOSS/Tripod
Our Team are collectively some of the most passionate, intelligent and funny people. The work I am doing is valuable, every day is different, and I'm forever learning (like all people should).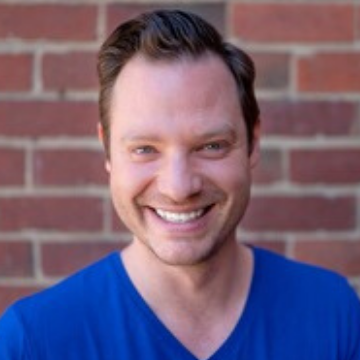 staffing@drivenoutcomes.com.au
Scott's background
Coming from an acting background, I have toured the country with shows and incursions performing and facilitating to a lot of diverse people. I learnt how to walk at a young age and being left handed, it took a long time to get my pen licence, as I would never pass the smudge test. 
Fun fact about Scott
Favourite TV show: Buffy the Vampire Slayer. Just amazing. Loved the fights, and characters. Which is part of the reason i became an actor and Stage Fighter! Swords are cool. 
Scott's favourite incursion
My favourite program is the senior Tripod program The Pitch. I love how involved the students get and how many insightful and intriguing the questions they ask are. They really enjoy it and its always a great fun fulfilling day. 
Why Scott likes working for MiniBOSS/Tripod
I love working with this company because the people are fabulous. The job is great and so rewarding, however for me, its the people. The staff, the teachers, the students. I love human interaction, and being able to do what we do with such fantastic people is what gets me up in the morning. That and me hitting the snooze button 12 times.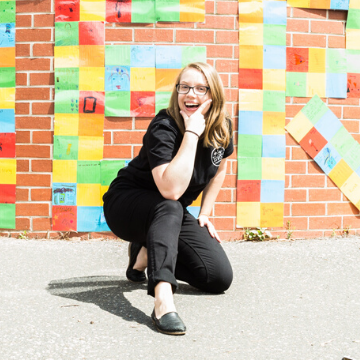 staffing@drivenoutcomes.com.au
Elise's background
I am a qualified Primary School Teacher with lots of experience working with children in different roles. 
Fun fact about Elise
I'm the most clumsy person you will ever meet. 
Elise's favourite incursion
My favourite incursion is 'The Lab', I love the experiments and getting to be a mad scientist for the day. 
Why Elise likes working for MiniBOSS/Tripod
The people, not only the amazing team I get to work with every day but also all of the children and teachers who make this one of the best jobs in the world.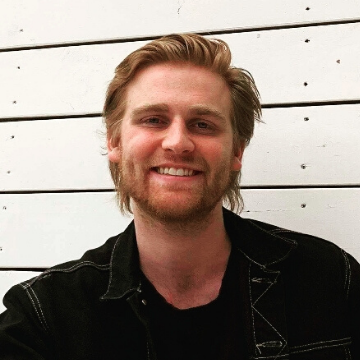 staffing@drivenoutcomes.com.au
Ryan's background
I'm currently studying Science and Education at Deakin University.
Fun fact about Ryan
I become way too invested in sports teams and players. I've got two pet guinea pigs called Cosmo and Karma as well as an insane chicken called Brock. 
Ryan's favourite incursion
My favourite program is "The Superhero in You" I love its message and I've seen so many kids really see themselves and their class in a different light.
Why Ryan likes working for MiniBOSS/Tripod
I'm so happy to be on the MiniBOSS/Tripod team, its an amazingly rewarding job where I really feel like I can contribute. It also has one of the best crews of people I've ever been a part of.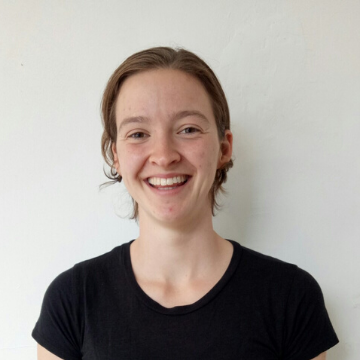 MAIREAD
Senior Facilitator 
staffing@drivenoutcomes.com.au
Mairead's background
I have a background in outdoor education, taking young people out on school camps. I have studied a Bachelor of Arts with a major in Gender Studies. 
Fun fact about Mairead
Covid-19 Isolation led me to panic buy chickens and build them a home! 
Mairead's favourite incursion
My Fav program is Lead It, because I love to see every young person's different skills come out in different leadership styles.
Why Mairead likes working for MiniBOSS/Tripod
I love working for MiniBoss/Tripod because I get to work with so many different young people, all unique, and help them find their skills!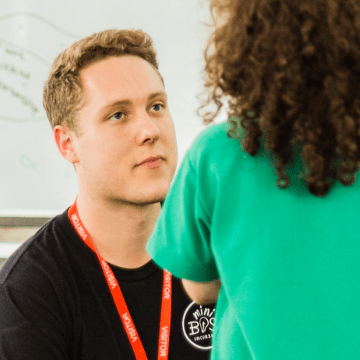 staffing@drivenoutcomes.com.au
Blake's background
Since graduating with honours as class clown I went straight from high school into drama school. I've always loved entertaining others and connecting with people through stories, humour and play. I learn best through experience and my professional career has taken me down a range of different avenues in the performing arts, theatre-in-education, kids entertainment, presentation and facilitation. I'm grateful to have immersed myself in personal adventures like travelling Europe, Asia, multiple road trips, bushwalking and hiking, sports, and anything outdoors where there is so much to connect with.
Fun fact about Blake
I'm not a fan of Olives, but I spent time farming olives in Croatia and it was FANTASTIC. I still don't like olives, but I can tolerate them. I take my crossiant with a thin layer of Vegemite and a thicker layer of Jam. YUM YUM.
Blake's favourite incursion
Luckily, on my very first day with the team, I was part of The Superhero in You. It was an amazing week of fun, learning and empowerment for the students. From there it was easy to fall in love with the incredible impact, reach, fulfilment, and positive change all of the MiniBOSS and Tripod programs enable for so many students. 
Why Blake likes working for MiniBOSS/Tripod
The magic of what we do at Driven Outcomes lies in the opportunity for students to challenge themselves with practical experience and key enterprise skills that will empower them to take confident courageous leaps forward in life. I'm thrilled to be part of that process and have the platform to engage and affect a lasting impact on young people.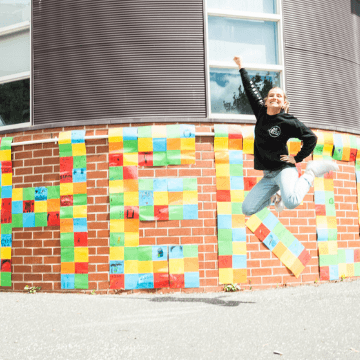 staffing@drivenoutcomes.com.au
Cara's background
I'm Currently studying science at Monash University and love learning about the body and how we can help cure disease.
Fun fact about Cara
I have an obsession with plants which is why you'll often see me wearing my infamous plant socks, no seriously ask me about my plant collection 🙂
Cara's favourite incursion
My favourite program would definitely be The Virtual Studio. I'm always blown away with the creativity and skill of our students and love listening to the final Podcasts.
Why Cara likes working for MiniBOSS/Tripod
I love working for Tripod and MiniBOSS because I love being able to meet new faces each program and witnessing the creativity of the student's.