Tripod & MiniBOSS
We design, create and deliver specialist incursions and programs for primary and secondary schools in both the public and private sectors. Our wide range of programs drive positive learning outcomes by meeting the ever evolving needs of schools, teachers and students of all ages. 
Junior School Programs
Years Prep-6
Senior School Programs
Years 7-12
Schools we have worked with
Organisations we have worked with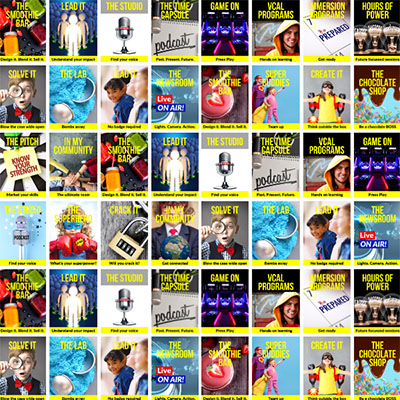 wide range of incursions AND PROGRAMS
We Design, Create, and Deliver
We also design, create and deliver specialist programs for vacation care providers, the not-for-profit sector as well as organisations such as Headspace, YMCA and The Royal Children's Hospital. 
We have worked with 100s of teachers, over 250 schools and organisations and more than 60,000 students of all ages. We have over 20 incursions and programs to choose from.
Our programs align with multiple areas of the Victorian and Australian Curriculums and have a strong focus on capabilities and student agency. Programs range from 60 minutes to multiple days for individual year levels as well as whole of school programs and events.  
Real World Learning
Our programs have been designed to achieve a range of essential 'real world' learning outcomes for young people from Foundation (prep) to year 12 including; 








MiniBOSS TV
A new initiative to provide help and support to teachers
and families in these extraordinary times.
We support programs with an Enterprise Education focus because they support and develop important skills in young people including:
Enterprising behaviours, capabilities and skills
Positive awareness and attitudes
Strong teacher and student engagement
Our Partners
Schools and Organisations We Work With:
Testimonials
What are teachers and students saying?

"The Smoothie Bar program immersed students into the world of enterprise in a fun and engaging way. The presenters treated students as young professionals and gave them the opportunity to develop 21st Century skills in a practical and challenging environment. I would be happy to recommend TRIPOD to any school."
Shaun – Teacher
Secondary School

"Our students left the In My Community workshop feeling empowered to take action around causes they care about. The team were quickly able to build rapport with the students and guide them through the project process. Not only have the students developed their enterprise skills and thinking, but teachers have also been able to experience this style of learning in action to take back into their classrooms."
Ashleigh – Teacher
Secondary School