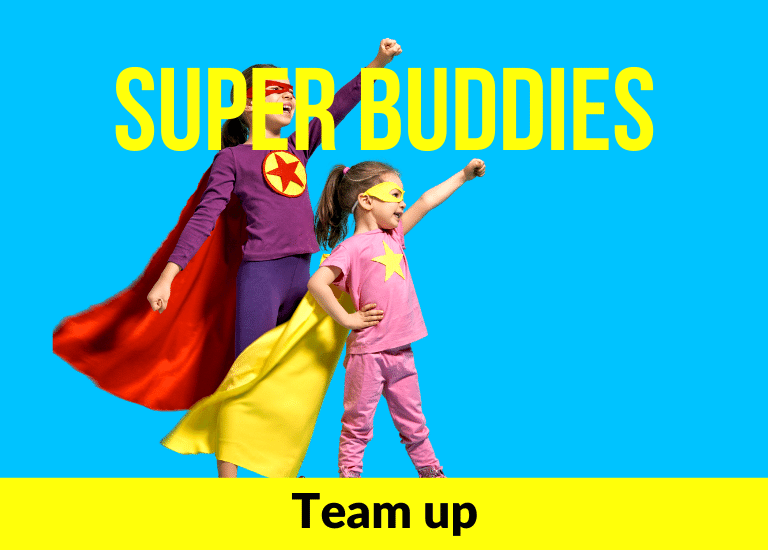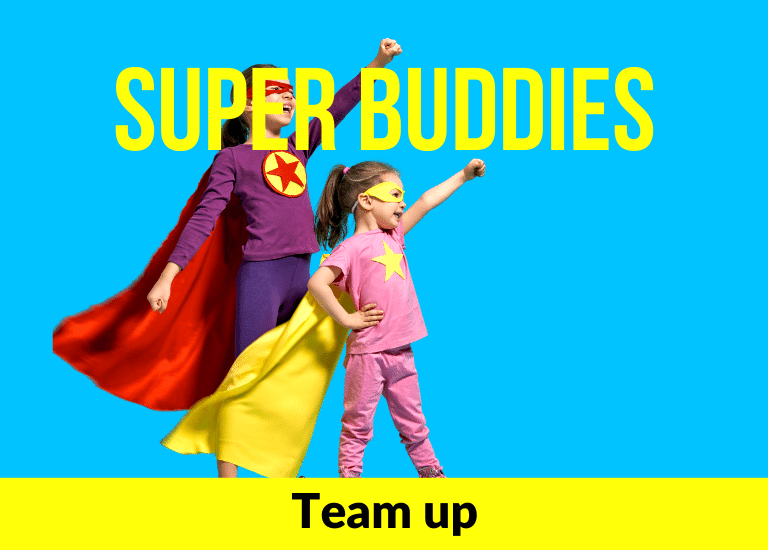 Skills for learning, life and the world of work
The ultimate Super Buddy Program!
It's time for your Junior Superheroes to bond with their Senior Sidekicks!
MiniBOSS 'Super Buddies' is a unique buddy program that centres on building meaningful relationships between junior superheroes and their older buddies (senior sidekicks). Packed with fun ways to communicate, dynamic duo challenges, and a chance to strut their superhero stuff, students will have a blast throughout this special connection experience.
MORNING SESSIONS (SEPARATE PROGRAMS FOR JUNIOR AND SENIOR STUDENTS)...
Students launch into the world of superheroes! For the juniors, it's time to take a trip to Superhero HQ, test out some powerful poses, and create a special superhero keepsake to show their Senior Sidekicks. For the seniors, creating clever ways to show hero behaviour while vanquishing villain temptations, all while becoming powerful role models for their buddies, is the name of the game!
AFTERNOON SESSION (JUNIOR AND SENIOR STUDENTS COMBINED)...
Buddies, it's time to unite! Sidekicks work closely with their Superheroes to strengthen their bond through the creation of a buddy book, a secret handshake and a superhero oath!
Super Buddies is run across a full day in two parts:
MORNING SESSIONS: JUNIOR SESSION (little buddies) and separate SENIOR SESSION (big buddies)
AFTERNOON SESSION: JUNIOR & SENIOR SESSION combined! (everyone comes together)
Pricing
Price: $27 per student plus GST for FULL DAY.
Package rates available for multiple year level bookings and whole of school programs.
Minimum numbers apply, get in touch for more information.
Program Information
The "Super Buddies" program is a Full Day incursion for both the Superheroes and their Sidekicks.
This program can be run with up to 120 students at a time (speak to us about options for more students as this is also possible).
A gymnasium, hall, or large open learning space will be required (Classrooms can be used for smaller groups).
Access to powerpoints required.
Access to a projector required.
Student supervision by teachers is required throughout the session.
All worksheets and supplies required to run the program are supplied by MiniBOSS.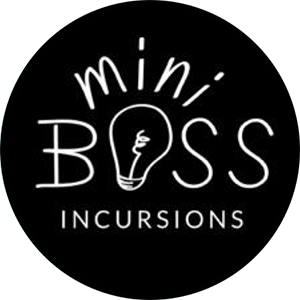 The Super Buddies incursion is an enterprise education program that fits especially well with
Inquiry Based Learning
. The program links to the Victorian Curriculum, supporting the following curriculum areas and capabilities:
Critical & Creative Thinking
Ethical Capability
Personal & Social Capability
Civics and Citizenship
Drama
Music
Visual Arts
Literacy
Inquiry Skills
This program can be customised to meet your school's desired learning outcomes.