Skills for learning, life and the world of work
Ideal for Years: 7-12 & VCE Vocational Major
Student voice couldn't be more important to a school and its community. The Studio gives students the opportunity to share theirs using digital technology to create a podcast! Podcasts can be on work experience, subject selection, careers or any classroom topic.
VCE Vocational Major Program
The Studio is a unique experience for students to develop key VM Work Related Skills and VM Personal Development Skills that are essential for learning, life and work.
Students are able to network across different schools, build relationships, work in teams, break down barriers, learn new digital technologies and smash personal challenges.
More that anything, The Studio is about a can-do and positive attitude and equipping students with the confidence to develop career and vocational interests. It is about motivating young people to learn and excel in their VCE VM education and to see the relevance of their studies and the credibility of their leaning amongst the community.
Pricing
Pricing depends on the duration of program and number of students. Package rates available for multiple year level bookings and whole of school programs. Minimum numbers apply, get in touch for more information.
Program Information
This program can be booked over One-Multiple Days. Speak to us about specific requirements.
This program can be run with up to 120 students at a time (speak to us about options for more students as this is also possible).
A gymnasium, hall, or large open learning space will be required (Classrooms can be used for smaller groups).
Access to a projector required.
Student supervision by teachers is required throughout the session.
All supplies required to run the program are supplied by TRIPOD.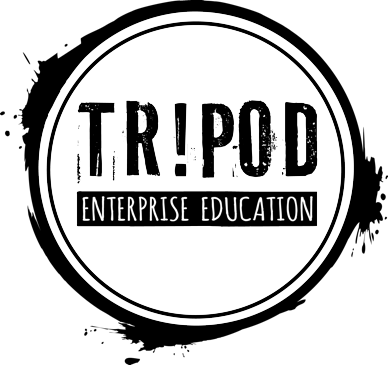 Years: 7-12 & VCE Vocational Major
The Studio can be customised to your school's individual requirements and to meet your desired learning outcomes. The Studio can be booked as a One-Multiple Day program, or inter-school program (VCE Vocational Major). The program links to the Victorian Curriculum, supporting the following curriculum areas and capabilities:
Digital Technologies
Civics & Citizenship
English
Ethical Capability
Personal & Social Capability
Critical & Creative Thinking
Enterprising & Inquiry Skills
The program links to the VCE Vocational Major:
VCE VM Work Related Skills
VCE VM Personal Development Skills
VCE VM Numeracy and Literacy Skills
This program can be customised to meet your school's desired learning outcomes.