Skills for learning, life and the world of work
Are you looking for an immersive, fun and engaging way for your students to build teamwork skills?
We are so excited to be launching two new versions of 'Crack It' in 2021 focussing on building teamwork skills in a super engaging way. We are kicking off Term 1 with Crack It: The Game Show! This incursion is a great way to build teamwork skills early in the year. Later in the year, we will be launching Crack It: The Island Escape! Both of which can be delivered as a half day or a full day incursion. In both exciting versions of Crack It teams race against the clock to complete pressurised STEAM challenges, learning success comes from working together. The challenges are designed to build resilience, as not every team will be successful at every challenge. With they crack under the pressure?
Crack It! is a high energy, fast paced program that places a huge emphasis on teamwork, communication, problem solving and critical thinking.
WELCOME TO...
Crack IT: The Game Show!
Come and join the MiniBOSS team for the one and only… Crack It: The Game Show! In this incursion specifically designed for 3-6s, students participate in a variety of unique challenges to suit all abilities and learning styles. This incursion is the ultimate test of teamwork skills, as students learn how to work effectively in a group and draw on each person's unique strengths. Throughout the day they gain points for their team, which are then traded in for interesting prizes decided by you, the teachers.
The program includes dynamic pre and post incursion activities, including video challenges and class discussions.
This incursion can be delivered as a half day or full day, with the full day giving students the opportunity to further develop their teamwork and strategic thinking skills by choosing which challenges to tackle.
STAY TUNED FOR...
Crack IT: The Island Escape!
In this intriguing version of Crack It, students are transported to a remote island where they try to find a mysterious treasure chest filled with the world's riches. The treasure cannot be found alone, the only way to find it is to work together. Like Indiana Jones, students face many challenges on their island journey; each challenge earning them a clue to decipher lock codes that seal the treasure chest. Crack It: The Island Escape focuses on developing valuable teamwork and collaboration skills, which students can then apply in group work at school. This incursion can be delivered as a half day or a full day, with the full day giving students the opportunity to be creative and use design skills. Will your class be able to return with the treasure and become the richest 3-6s in the world? Only time will tell.
Please note that this incursion will be available after Term 1.
We were so impressed (yet again) with the orchestration and delivery of the MiniBOSS Crack It session. We have been privileged to also have been involved with the Smoothie Bar and this was of the same high calibre! We were most impressed with the control the leaders had with the students and their engagement. They were thoroughly enjoying every aspect of the session and it was energetic and highly active for them. What a fantastic team building experience to have witnessed. Well done to you all. Can't wait to do another one.
VIEW MORE
Pricing
Prices range from $15-$25 per student plus GST. Package rates available for multiple year level bookings and whole of school programs. Minimum numbers apply, get in touch for more information.
Program Information
This program is run as a Half Day or a Full Day incursion.
This program can be run with up to 120 students at a time (speak to us about options for more students as this is also possible).
A large open learning space or classrooms will be required.
Access to a projector (with sound) required.
Student supervision by teachers is required throughout the session.
All supplies required to run the program are supplied by MiniBOSS.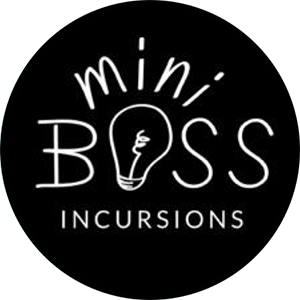 Crack It! is an enterprise education program that fits especially well with
Inquiry Based Learning
and
STEAM
education. The program links to the Victorian Curriculum, supporting the following curriculum areas and capabilities:
STEAM Challenges
Problem Solving
Designed Solutions
Personal & Social Capability
Critical & Creative Thinking
Resilience & Inquiry Skills
This program can be customised to meet your school's desired learning outcomes.